Count on Us for Commercial Roofing in St. Louis, MO
Shelby Roofing & Exteriors prides itself in being a leader in the commercial roofing industry. We go to great lengths to make sure our crews stay up to date on the latest productions and roof installation methods. Replacing your current roofing system is a big financial decision that we do not take lightly. We will give you multiple options on product applications and types of roofing materials. Reach out to our team when you need any commercial roofing in St. Louis, MO. We handle a full variety of commercial roof replacement and installation types.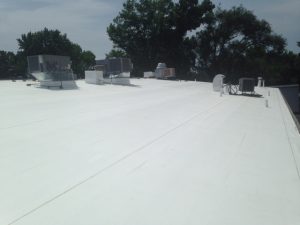 TPO Applications
TPO applications are modern systems designed for year-round installation with proper roof deck preparation. However, some adjustments must be made for certain weather conditions, and our contractors are prepared for every possible scenario. There are many advantages to using this membrane. One of the main benefits is its reflective qualities, which help you save on heating and cooling costs. It is very safe to install and comes in different thicknesses.
Modified Bitumen Applications
Shelby Roofing & Exteriors offers modified bitumen applications as an alternative approach. There are many advantages to this system, including durability, affordable options for roof repair in St. Louis, MO, and easy maintenance.
EPDM Applications
Another alternative roofing system we offer is EPDM applications. This product can be installed on positive slopes where proper drainage is imperative and high resistance to weathering is necessary.
Silicone Coatings
Silicone coatings can be a more affordable option instead of a complete tear-off if the underlying roof is still in good condition. As the best roofer in St. Louis, we will discuss all of your options during your consultation and help determine the best type of commercial roofing to suit your needs.
Schedule a Consultation with Our Team
When you are ready to schedule commercial roof replacement or repairs, get in touch with our friendly staff. We will visit your location to inspect your roof and come up with a complete plan of action that suits your needs and addresses your concerns. Whether you need repair work or a whole new roofing system, we are your trusted choice for commercial roofing in St. Louis, MO.
Contact us today to schedule quality roofing or exterior services with our dedicated team. We proudly serve clients in the St. Louis metropolitan area, including Illinois, and the surrounding communities.
Patty Richards
July 15, 2022.
Nick was very professional, knowledgeable, and helpful.
Blake Housewright
June 17, 2022.
Cynthia Sparkman
June 8, 2022.
Had a ventng issue with my mother's ceiling having water damage. Called several roofing places,they blamed HVAC. Called HVAC they blamed roofing. This went on for weeks trying to get someone to determine what needed to be done and who could do it. Spoke with Christian, the owner, trying to get some answers. He came THE SAME DAY I spoke with him- out to her house and clearly diagnosed the issue. (Wasn't even a roofing problem) I was able to fix the issue in her attic myself with his tutelage. He was so helpful clearing up a confusion with his staff in determining the problem. Stands by his word, trust worthy company owner . C Sparkman
Mark De Lorenzo
May 10, 2022.
What an amazing company to work with. Fast, courteous, professional. They went above and beyond the call of duty in every way possible. Thank you for being such a blessing to our family (home).
Ken Kempf
April 29, 2022.
We contacted Shelby to replace our 15 year old roof. They came out, did a thorough inspection and provided photos and explanations of the issues on the roof and how they would correct the deficiencies in the new installation. Said we were about 5 weeks out due to supply issues, but they were able to schedule it within 2 weeks. We were having flooring installed the same week and they worked with us on delivery to get both projects completed. Very competitive on price, and the crew they sent out was very professional and completed the work in a day. Did a post-installation walk around with us and contacted us twice afterward to ensure there were no issues.
Denise Barnett
April 23, 2022.
Keith was very professional and took care of everything! I would definitely recommend Shelby!
Melissa Moore
April 23, 2022.
Very professional business. Worked with Keith for our new roof. Very knowledgeable, friendly, and worked hard to get us the best deal. Will definitely use again!
Cinda Thornberry
April 21, 2022.
Keith from Shelby Roofing and Exteriors did an exceptional job repairing my roof from storm damage. He was fast and very professional. I will definitely be using this company again because of his work. Highly recommend!
LONY JOST SR
March 23, 2022.
I just had them do my entire roof and It went wonderfully. I went with them because I trusted them and they didn't disappoint. My only complaint is the roof looks so good that the rest of the house looks shabby. I would recommend them to everyone needing a roof.
Jon Blankemeier
March 9, 2022.
Josh from Shelby roofing and exteriors did an outstanding job in providing repair service for our roof. Highest quality service. I highly recommend this company! And will continue to use them in any future work.