Count on Us for Commercial Roofing in St. Louis, MO
Shelby Roofing & Exteriors prides itself in being a leader in the commercial roofing industry. We go to great lengths to make sure our crews stay up to date on the latest productions and roof installation methods. Replacing your current roofing system is a big financial decision that we do not take lightly. We will give you multiple options on product applications and types of roofing materials. Reach out to our team when you need any commercial roofing in St. Louis, MO. We handle a full variety of commercial roof replacement and installation types.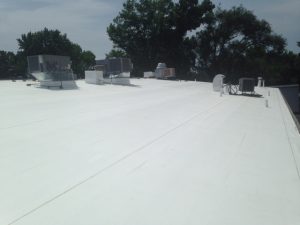 TPO Applications
TPO applications are modern systems designed for year-round installation with proper roof deck preparation. However, some adjustments must be made for certain weather conditions, and our contractors are prepared for every possible scenario. There are many advantages to using this membrane. One of the main benefits is its reflective qualities, which help you save on heating and cooling costs. It is very safe to install and comes in different thicknesses.
Modified Bitumen Applications
Shelby Roofing & Exteriors offers modified bitumen applications as an alternative approach. There are many advantages to this system, including durability, affordable options for roof repair in St. Louis, MO, and easy maintenance.
EPDM Applications
Another alternative roofing system we offer is EPDM applications. This product can be installed on positive slopes where proper drainage is imperative and high resistance to weathering is necessary.
Silicone Coatings
Silicone coatings can be a more affordable option instead of a complete tear-off if the underlying roof is still in good condition. As the best roofer in St. Louis, we will discuss all of your options during your consultation and help determine the best type of commercial roofing to suit your needs.
Schedule a Consultation with Our Team
When you are ready to schedule commercial roof replacement or repairs, get in touch with our friendly staff. We will visit your location to inspect your roof and come up with a complete plan of action that suits your needs and addresses your concerns. Whether you need repair work or a whole new roofing system, we are your trusted choice for commercial roofing in St. Louis, MO.
Contact us today to schedule quality roofing or exterior services with our dedicated team. We proudly serve clients in the St. Louis metropolitan area, including Illinois, and the surrounding communities.