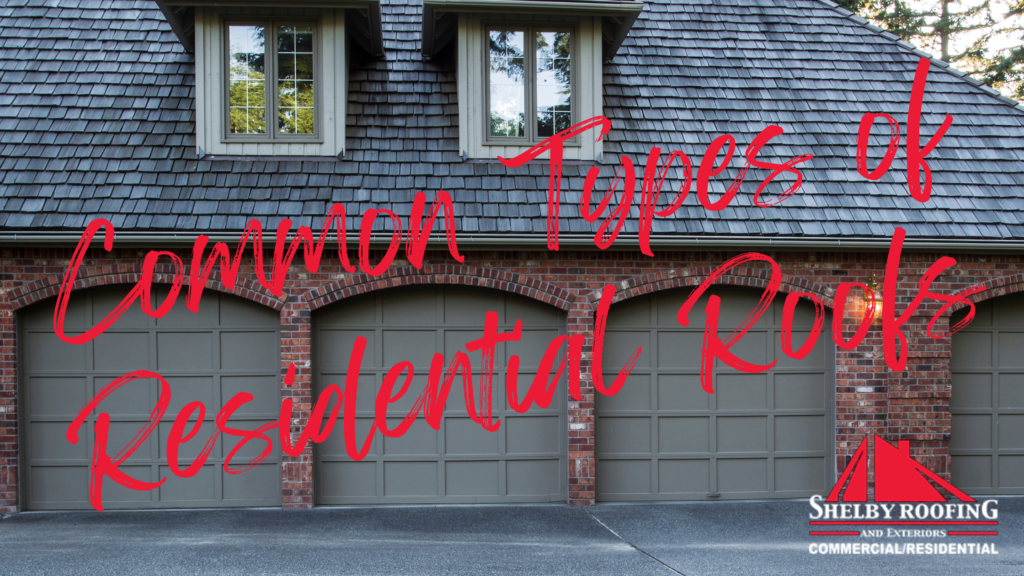 As summer approaches, you may be like many homeowners looking to repair or replace the residential roof of your home. When severe weather hits or your roof is simply coming of age, deciding on what type of new roof to add to your home is an important decision that will last decades.
It is our number one priority at Shelby Roofing & Exteriors to ensure you have a safe, well-sealed home with a leak-proof, durable, and structurally sound roof type that will not break your budget. This means considering not only the quality of materials used and the home itself, but also the advantages each roof has in terms of price, maintenance, lifespan, and curb appeal.
To help you get started on what type of residential roof is the ideal choice for your Missouri home, check out the most popular roofs chosen by homeowners in St. Louis and surrounding areas below.
Best  Types of residential roofs in Missouri
The most common types of residential roofs in Missouri are asphalt roofing, metal, clay tiles, and slate tiles, with architectural shingles and cedar shingles also having honorable mentions. Each roof type has its own beneficial features to consider when selecting a new roof for your home.
1-Asphalt Composite or Fiberglass Shingles for residential roofs
Houses throughout Missouri depend on the low-cost durability of asphalt composite or fiberglass shingle roofing. Asphalt shingles are the most selected type of residential roofing, both in the Show Me State and across the United States, due to their affordable pricing, high quality, and toughness when it comes to Missouri weather. 
Small and uniform in appearance, traditional asphalt shingle has a top layer of asphalt that is ingrained into the layers of felt and adhesive that make them naturally fire and water resistant. More modern versions replace the felt based with fiberglass sheets or cellulose for a more economical, safer, and environmentally friendly option.
Asphalt Fiberglass Shingles provide additional protection with their ability to fight algae growth and strengthened resistance to major winds and hail damage. This modern option also incorporates cool roof color technology that more effectively reflects the sun's rays to keep your home cooler during the hot summer months. As a result, homeowners can expect to not only reduce air conditioning costs, but also see reductions in annual home insurance costs.
As a low-maintenance option, today's selections of asphalt shingles are a great choice for any home, being both easy to install and easy to repair, and for their ability to adjust to the roof's natural movements as the weather fluctuates. Traditional asphalt roofs can last at least 15 to 25 years, while fiberglass shingles can last up to 50 years.
2-Metal Roofing for residential roofs
Often a popular option in warmer climates, metal roofing is a durable and low-maintenance roofing option that comes in a range of colors and styles, from shingle to shake and slate to tile. 
Many homeowners consider metal roofing a valuable option with its practical, large panel design that reflects the sun's heat more efficiently than other available residential options. Once again, saving you significantly on monthly heating and cooling bills for years to come and that can last for 40 to 70 years. Homeowners can also choose the use of hidden fasteners and stone coated metal shingles that will guarantee even greater protection and cost-savings.
Due to the smart design, homeowners can also save on labor costs by repairing holes or rusted areas themselves using a waterproof sealant. Beyond minor maintenance needs, metal roofing systems have a high level of durability that prevents them from cracking, breaking, burning, or splitting with fade-, rust-, and weather-proof materials that are also UV resistant. They are also made with environmentally friendly, recyclable materials that help reduce waste in local landfills.
3-Clay Tiles for residential roofs
Another cost-effective roofing option is clay tiles that have long been recognized for their exceptional wind resistance and ability to withstand moisture damage. Similar in cost and durability is concrete tiles that have been used as a modern substitute for what has been used globally for centuries.
This Spanish style option comes in a variety of colors but is often recognized for its natural terra-cotta color that keeps the interior of your home cool and resists the impacts of rain, ice, snow, and high winds up to 150 mph. Maintenance is minimal, and the lifespan of clay roofs averages up to 100 years. If original clay tiles are in good condition, they may be reused during regular maintenance to save on the initial investment of clay tiles themselves.
4-Slate Tiles for residential roofs
Slate tiles are perhaps the most durable and long-lasting preference for homeowners that want to invest in a roof that can last over 100 years with the proper maintenance. The tiles are fashioned out of shale -a fine-grained sedimentary rock formed from clay, quartz and calcite mineral flakes – that appears neutral and dark in color. The heavy, earth-mined material is hand-cut to fit the size and style of any home, providing an aesthetically pleasing look. The material is also insect-proof, fireproof, and has a low water absorption rate.
5-Architectural Shingles for residential roofs
If you are looking for a new roof that will provide a unique depth and dimension to the appearance of your roof and home, then architectural shingles may be a great option. As a modern replacement for 3-tab (or strip) shingles, these laminated or dimensional shingles have a high-quality composition and durability but are similar in price to strip shingles.
The strength of architectural shingles is demonstrated in their exceptional resistance to wind, heat, rain, and snow; with an average lifespan of 18 to 20 years. Thicker luxury shingle options can extend the roof's lifespan to 30 years and both options usually include extended warranties.
6-Cedar Shingles
As with other roofing types, cedar roofing is offered in a range of formats, including shingle, hip, ridge, and shake. Cedar shingle roofing is made from red cedar wood that offers rustic tones of reds, browns and golds to your home. The type of cedar shingles you choose will impact the placement of the materials and the overall appearance of your roof, whether choosing shakes that are irregularly cut and shaped for a natural look or cedar shingles that are laid in flat rows for a more uniform appearance.
Cedar roofing is an eco-friendly option that is known for its resistance to insect damage, mold, algae, and weather decay. It is also an excellent fire-retardant and natural insulator that both enhances the structural strength of the roof and saves on energy-costs. Homeowners can choose from a range of oil, stain, pain, or solid coating finishes that will help protect the natural aging that turns silvery gray over its 40 year lifetime.
When it comes to repairing or replacing the roof of your home, you want roofing professionals that you can trust to provide expert guidance and that will help you make an informed decision on the best type of roof for your residential home. Shelby Roofing & Exteriors has 40 years of experience providing a full variety of repair and replacement services that help you maintain the integrity of your home's roof any time of the year. Contact us today to learn more and to schedule a free online estimate for your roofing in St. Louis, MO.