Reliable Roofer for Arnold, Oakville, Imperial, and Fenton, MO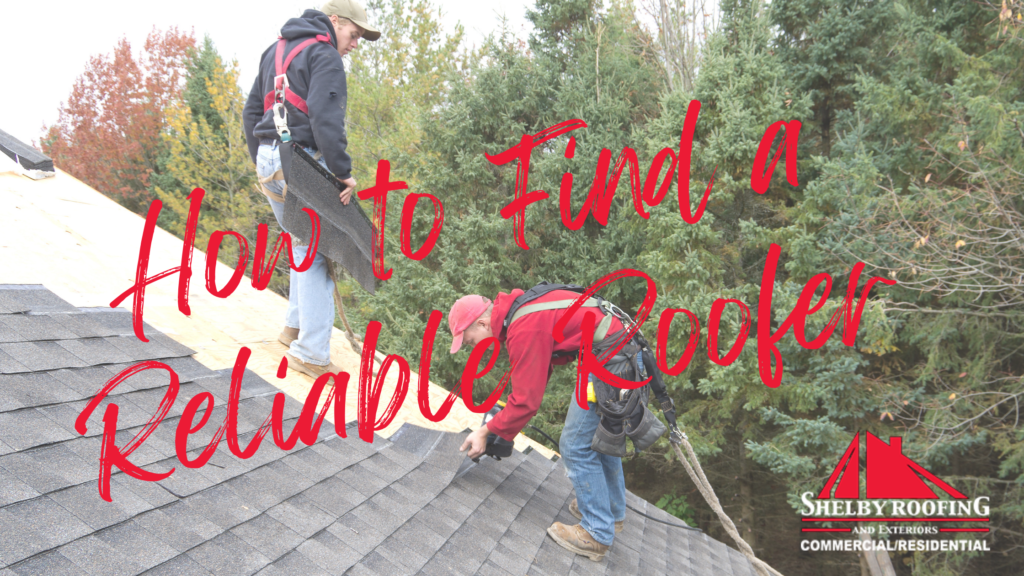 With summer just around the corner, it is the best time of year to inspect, repair, weatherproof, and maintain your commercial or residential roof and gutters. Whether your roofing project is big or small, your investment needs a reputable and reliable roofer to do the job right. To help you find the most capable hands for your summer roofing project, these five steps will help you make the best decision.
Ask for Local Recommendations
Identifying top personal and professional references is the first step to finding a reliable roofer in your local community.
Inquire with neighbors, friends, family, and coworkers that have had their roof or home exterior done recently (ideally, in the last 5 to 10 years) for recommendations for a professional roofer. No matter the project you have in mind be sure to ask them about the work they had done, if the company or contractor stayed within the agreed upon budget, any project delays and how they were solved, and the customer's overall satisfaction with the final work.
Next, reach out to your local Homeowners Association (HOA) to ask any additional questions about community roofing standards, roofing policies, and standard divisions of roofing expenses based on your home or business type in the community.
Do Your Research
Now that you have your list of recommended roofers in your area, it is time to take a Google Search deep dive into each company reference.
Look at the company website to compare service offerings for each and determine if they are the right option for your specific roofing project. Does their website mention that they are registered, bonded, or insured? This is one of the most important questions to ask to verify that the roofing company or contractor maintains a state license to legally operate.
How experienced are the roofing contractors? This information may be found on the company's website, the Better Business Bureau (BBB) website, professional LinkedIn profiles, or directly over the phone. Just as important is the quality of other customer experiences, making reviews on sites like Google Business, Facebook, BBB, and Angie's List essential in the decision-making process as well.
If you have any questions along the way, write them down to ask when you meet your potential roofer in-person.
Contact Your Top Three Choices
After you have considered your list of recommendations and completed follow-up research, it is time to schedule a professional consultation with your top three local roofers of choice. During this time, it is important to ask the right questions throughout the consultation process to help you make the most informed decision about which roofer is best for the job. 
To start, discuss what roofing materials are available to choose from after the roofer has completed an in-person inspection. The materials you choose are just as important as choosing a quality roofer. 
To determine how extensive your roof replacement will be, ask the roofer to determine the number of old layers currently on the roof. If three or more layers exist, then additional labor and materials will add to the cost to account for stripping the roof, checking for wood rot, insulation, and building a new roof. 
Also be sure to ask about the manufacturer's warranty for your chosen roofing materials, particularly if the materials are designed to withstand exposure to the environmental elements in your area, such as extreme heat, high winds, heavy rain, snow, or saltwater.
While staying under your budget is important, you want to be sure you are quoted a fair price and that you can meet the company's specific payment requirements. Ask, when is payment due? Do they require a percentage paid before the project can begin or full payment within 30 days after completion? What payment methods do they accept?
Another question that is often missed is if there anything they need you to do by the start date? Usually this will include moving any vehicles away from the house and noting where roofing materials may be dropped off prior to the beginning of the project.
Finally, when the project is completed, will the roofer clean up any debris and extra materials? What methods are used for the clean-up process, such as a magnetic nail sweeper or dumpster. Be sure these final elements are noted in the project proposal and signed contract to ensure you end up with a quality roof and safe property.
Compare Your Options
Request a written proposal and negotiate final pricing to fit your project and budget. The project proposals will help you have a better understanding of each professional opinion, what service options they may be recommending, and their final bid. Take the time to review each proposal carefully and make an informed decision. Keep in mind that choosing the lowest bidder is not always the best option, since each roofing option will vary in services and may include unnecessary extras or hidden costs.
Determine and compare project timelines when considering the best choice. This includes determining when the contractor can fit your project into their schedule with the expected start and end dates, along with setting expectations regarding delays and the final run-through.
Making the Final Decision
When searching for a reliable roofer to fix that leaky roof, replace those three-year old shingles or remove debris from a recent storm, you want someone that has an excellent reputation for strong customer service, dependability, and high-quality work at a reasonable price. 
With over 40 years of experience, Shelby Roofing & Exteriors is one of the most trusted roofing contractors in the Saint Louis area. We offer everything from residential and commercial roofing, roof repair, gutter maintenance and installation, siding, soffit and fascia for pest and weather prevention, along with storm damage cleanup, and a 24-hour emergency response team when you need us most. Contact us today to learn more about our services and for a free estimate.