Properly Maintain Your Soffit and Fascia in St. Louis, MO
The experts at Shelby Roofing & Exteriors know that soffit and fascia in St. Louis, MO, are essential elements that add beauty and protection to your home. We offer the best quality products and services available to help you protect your home from the elements, add architectural elegance to your home, and increase the value of your investment.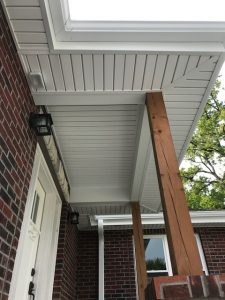 Soffit and fascia in St. Louis, MO, perform an essential function in your home. Soffit and fascia control moisture and rotting problems, help maintain proper temperature balance, and optimize energy performance. Our systems will prevent damage to your home, offer the beauty of design, and increase curb appeal. Our systems are designed to work correctly with both new and remodeling projects. When you are looking for experts to install or maintain your soffit and fascia in the St. Louis metropolitan area, including Illinois, get in touch with us.
The Purpose of Soffit and Fascia
Our soffit and fascia products are manufactured to the highest industry standards. They provide attic ventilation and maintenance-free upkeep on difficult-to-paint areas and are available in many beautiful and stylish finish options for design adaptability and durability. Our hidden vent soffit provides continuous airflow for maintaining a cool and dry attic as well as soffit air vents that are skillfully hidden in grooves for aesthetic beauty. Soffit and fascia installations can dramatically increase the visual appeal of gables, entryways, porches, and many other design features.
When and Why to Schedule Soffit and Fascia Repair
Soffit and fascia are often misunderstood and underrated parts of a home or business's roofing in St. Louis, MO. Many laypeople do not fully understand the purpose of these vital parts, so it is our job to make sure they are in good condition and provide soffit and fascia repair when necessary.
Contact us to schedule quality exterior services for soffit and fascia or siding in St. Louis, MO, with our dedicated team. We proudly serve clients in the St. Louis metropolitan area, including Illinois, as well as the surrounding areas.